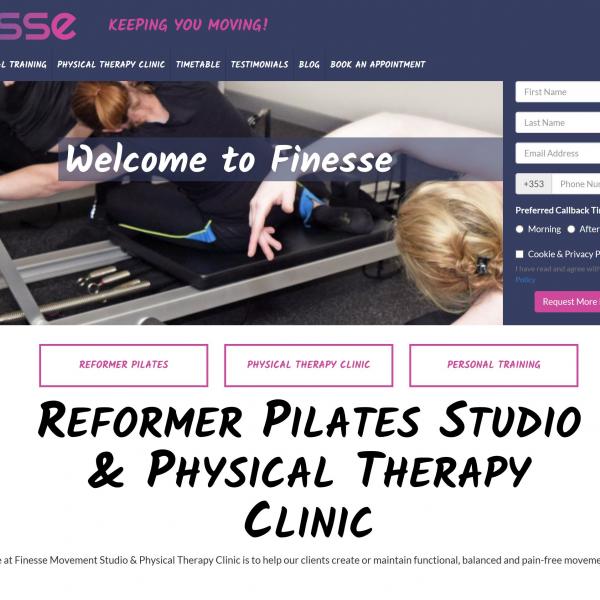 Finesse Movement Studio & Physical Therapy Clinic
Finesse.ie had a great website when they approached me. Unfortunately it was not performing as they needed it to and additionally they were not getting the value they believed they ought to be getting from it.
My first challenge was to design a new website that would not alienate users of the previous website. Additionally it needed to be responsive as the majority of fitness/health/nutrition/gym enthusiasts use their mobile phones to access websites. Using the Finesse logo for the base colours of the website I designed the new website to replace the previous one.
Behind the scenes a number of solutions needed to work together to ensure that the website was getting appropriate visitors and engaging with these visitors. For instance, Mailchimp is highly integrated with this site to allow users to request further information, but also to allow the owners to engage in meaningful conversations with those users.
The client required the ability to add/update/edit the website as needed, as such it was built with access to a CMS (Content Management System). This allows the clients to add new engaging blogs and information to website. As the client creates information real-time Search Engine Optimisation information is provided to them to ensure that the content they create will rank highly on search engines.
By bringing together the different systems the clients use to manage their business, I was able to create a solution that not only gave the clients all the functionality they required at a cost that they saw the value in, but also it streamlined their processes to reduce their administration costs.